Mushroom soup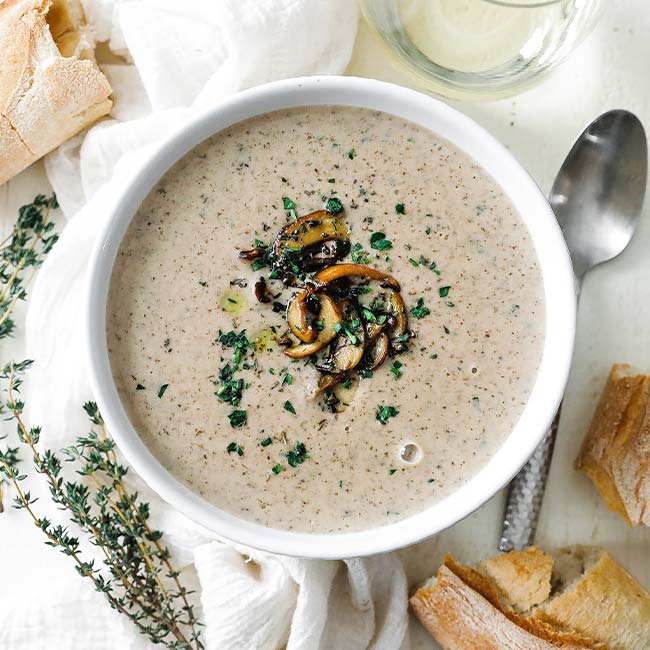 INGREDIENTS 
¼ cup unsalted butter
2 pounds sliced fresh mushrooms
1 pinch salt
1 yellow onion, diced
1 ½ tablespoons all-purpose flour
6 sprigs fresh thyme
2 cloves garlic, peeled
4 cups chicken broth
1 cup water
1 cup heavy whipping cream
1 pinch salt and freshly ground black pepper to taste
1 teaspoon fresh thyme leaves for garnish, or to taste
DIRECTION
 1. Melt butter in a large soup pot over medium-high heat; cook mushrooms in butter with 1 pinch salt until the mushrooms give off their juices; reduce heat to low. Continue to cook, stirring often, until juices evaporate and the mushrooms are golden brown, about 15 minutes. Set aside a few attractive mushroom slices for garnish later, if desired. Mix onion into mushrooms and cook until onion is soft and translucent, about 5 more minutes.
2. Stir flour into mushroom mixture and cook, stirring often, for 2 minutes to remove raw flour taste. Tie thyme sprigs into a small bundle with kitchen twine and add to mushroom mixture; add garlic cloves. Pour chicken stock and water into mushroom mixture. Bring to a simmer and cook for 1 hour. Remove thyme bundle.
3. Transfer soup to a blender in small batches and puree on high speed until smooth and thick.
4. Return soup to pot and stir in cream. Season with salt and black pepper and serve in bowls, garnished with reserved mushroom slices and a few thyme leaves.
Red Bean Soup 
INGREDIENTS 
DIRECTION
1) Prepare Ingredients: Rehydrate chenpi in cold water for 15 - 20 minutes. Use a spoon to scrub off chenpi's white bitter part. Pick & rinse 1 cup (200g) adzuki beans in cold tap water. Drain well.
 2) Pressure Cook Red Bean Soup: Add 1 cup (200g) cleaned adzuki beans, 1 piece (2g) chenpi, 2 pinches of kosher salt, and 2 pieces (130g) brown sugar in pieces in Instant Pot. Then, add in 6 cups cold water (1500ml). Pressure Cook at High Pressure for 30 minutes + 20 minutes Natural Release.
3) Emulsify Red Bean Soup: Emulsify Red Bean Soup: Bring the red bean soup to a boil using the "Saute High" function. Let it boil for 15 - 20 minutes until desired thickness. Stir occasionally.
Chocolate milk Shake 
 INGREDIENTS 
3/4

cup milk

1/4

cup chocolate-flavored syrup

3

scoops (1/2 cup each) vanilla ice cream
DIRECTION
In blender, place milk and syrup. Cover and blend on high speed 2 seconds.

Add ice cream. Cover and blend on low speed about 5 seconds or until smooth. Pour into glasses. Serve immediately.
Share
查看完整详细信息