Velvet Soft
Powerful Motor
Powerful Stone
Perfect Coarse Rollers
Gently & effectively buffs away your thick hard skin to reveal touchably soft, smooth feet
Refillable Regular Coarse roller head that spins 360 degrees for quick results on thick, calloused skin
Safe and effective to remove dead skin from feet for the perfect pedicure at home
Battery operated electric foot file with four AA batteries (excluded)
Ergonomically shaped soft touch handle for an effortless, perfect pedi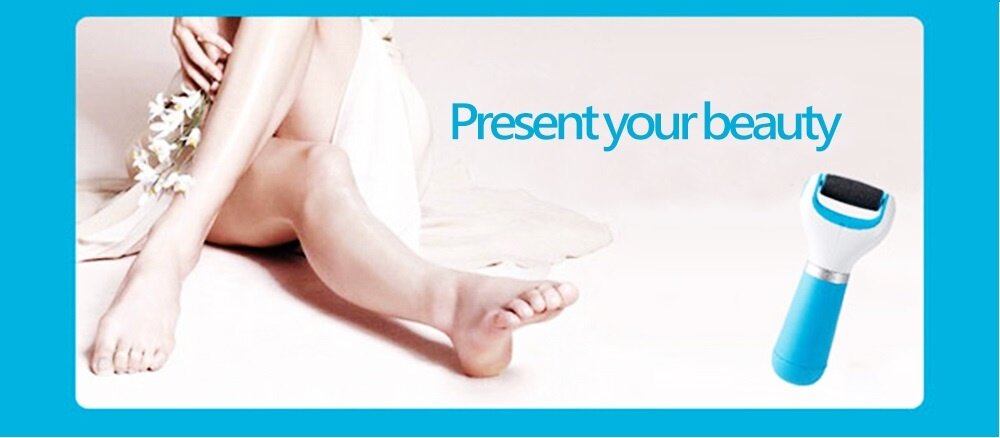 This product is a battery electric grinding foot section, there is now photographed Get a grinding a brush. For four AA batteries (to be not supplied) is blister packaging cardboard packaging, scrub, abs material
( Benefits )
1, easy to remove dead skin, scleroderma.
2, to maintain smooth and soft feet.
3, can be used repeatedly, you can replace scrub head.
【Features】
1, ergonomic soft grip.
2. Specially designed Micralumina replaceable go crusty roll.
3, gentle and effective is rotated
4, battery-powered, ready to use.
General use
1, before using to remove the protective plastic cover crusty roll.
2. Make sure to crusty machine rollers firmly grip on the device. In the case of the wheel is not installed do not start to crust.
3, will go on crusty crusty roll gently slide, dead skin will be removed. Product can only be used for dry skin. Do not vigorously pressed, otherwise the product will stop functioning.
4. Turn off the host computer and check if you expect to have reached the foot skin as smooth. If you have not reached the target, launch the device in mind the desired effect, and repeat the above steps to. Warning: Remember not to use products on the same site more than 3-4 seconds. If the skin becomes painful or inflamed, stop using it immediately.
5, let the feet smooth reply.
6, wipe or wash feet clean up excess dead skin has been removed.
7, completely dry feet.
8, moisturizing cream silky massage to your feet.
friendly reminder:
1, the product must be used under the feet dry conditions! Feet, the old skin after a bath will soften but not conducive to polish.
2, must be polished back and forth, a rigorous long stay, make the skin rapid warming and hot to!
3, foot wear will not only pressed gently slide open, do not force, otherwise more cost electricity!