---
---
1 Month Local Supplier Warranty
~ Speeds Hand Mixer
~ Beater hooks
~ 220v
7Speed Hand Mixer for Cooker5 pcs Offering Good Price. The 7Speed mixer helps you create delicious homemade cakes, pies and bread. Its 7 speeds and assorted strip beaters and kneading hooks will make mixing fun and easy.
A friend's birthday is around the corner? Your sister just gave birth? Your brother just graduated? Or your parents just retired? Thinking of making something sweet to commemorate those days? But tired of all those expensive unreasonably-sugary pastries and cakes from the stores? Then why not make a cake of your own? Now it is made easy with this 7speeds Hand Mixer. With this creative product, you can make great-tasting pastries with the comfort of home.

Multiple speeds and turbo function

Beaters and dough hooks included

A pair of stainless steel beaters and dough hooks for your Mixer so all your recipes are whipped/mixed and knead to perfection.



Powerful motor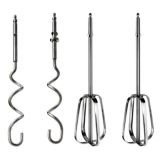 Powerful motor to handle a variety of ingredients.
---